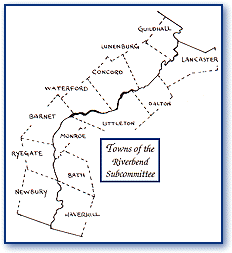 The river travels 70 miles through the Riverbend segment, between the New Hampshire towns of Lancaster, Dalton, Littleton, Monroe, Bath, and Haverhill, and the Vermont towns of Guildhall, Lunenburg, Concord, Waterford, Barnet, Ryegate, and Newbury.
Meetings: The Riverbend Subcommittee typically meets quarterly at 7:00 pm at the Littleton Community Center, 120 Main Street, Littleton, NH
Leadership and Staff: Rick Walling Chair and Stephanie Taylor Vice Chair. Tara Bamford of the North Country Council is the staff consultant.
Membership:
Lancaster – Bob Elwell
Dalton – Michael Crosby and Lloyd Saltmarsh
Littleton – Jim Sherrard and Jan Edick
Monroe – Philip Blanchard, Ken Hunter, and Michael Monaghan
Bath – Rick Walling and Richard Long
Haverhill – Pauline Corzilius
Guildhall – Richard Martin
Lunenberg – Donald Hallee
Concord – Deborah Noble
Waterford – Dennis Goodwin
Barnet – Bill Graves
Ryegate – vacant
Newbury – Stephanie Taylor  and Jim Doig
2013 Meeting Schedule: January 24, April 25, July 25, and October 24.
2012 Meeting Minutes: April 26, 2012 July 26, 2012 Oct. 18, 2012 Jan.24, 2013
2011 Meeting Minutes: Sept. 22, 2011 Dec. 15, 2012