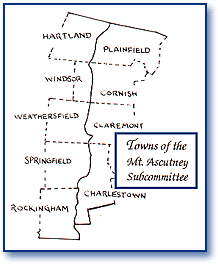 The Mt. Ascutney Region River Subcommittee includes the New Hampshire towns of Plainfield, Cornish, Claremont, and Charlestown, and the Vermont towns of Hartland, Windsor, Weathersfield, Springfield, and Rockingham.
Meetings: The Mount Ascutney Subcommittee is meeting monthly this summer on the third Wednesday of the month at 7:00 pm at the Martin Memorial Building in Ascutney, VT.
Leadership and Staff: Kelly Stettner of Springfield serves as Chair. Victoria Davis of the Upper Valley Lake Sunapee Regional Planning Commission is the staff consultant.
Membership:
Plainfield – Elise Angelillo and Ted Moynihan
Cornish – Michael Meeks
Claremont – Doreé Russell
Charlestown – John Bruno
Hartland – Cordelia Merritt and Judy Howland
Windsor – Open
Weathersfield – Gil Whittemore and Nancy Heatley
Springfield –  William Manner and Kelly Stettner
Rockingham – Thomas Hernon and Margaret Perry
2014 Minutes: January 2014, April 2014
2013 Meeting Minutes:  January 16, 2013  March 20, 2013  May 15, 2013
2012 Meeting Minutes: January 24, 2012 April 17, 2012  May 16, 2012 June 20, 2012 July 18, 2012 August 15, 2012 Nov28, 2012